See the detailed installation guide here. Well, this is amazingly simple with Cocospy web-based iOS monitoring solution!
Top 3 Boyfriend Tracker Apps for iOS and Android
The iOS monitoring solution is web-based and does not need you to install any app on the target phone. You can open Cocospy iOS solution in any web browser of any device. These credentials are verified and the data begins to synchronize over the cloud using the iCloud backup. Why spy on text messages only? Why not sneak inside his social apps, trace out his whereabouts all day long and scrutinize his planned things? Get hold of your relationship and stay updated with whom he is in touch with, who is calling him, who he is calling and how long they are conversing.
Cocospy web-based iOS monitoring solution provides all these features and much more to assist you in safeguarding your relationship. Check out the live demonstration here and see how different features can help you spy on your man. There is certainly no need to install any application on the target iOS device. You can log in to your Cocospy account anytime through your browser. Choose between different options on the Dashboard and remotely track his iPhone without him knowing.
Use Cocospy cell phone monitoring solution and sleep peacefully in his arms! Trusted and Reliable It is leading and professional spyware. A footprint of less than 2 MB occupies only a fraction of memory space. The spy service consumes less battery power. Look at when a person makes calls, who that person calls or receives calls from, and how long those calls might have lasted for. Find information on where your boyfriend has been by using the Wi-Fi history or GPS data on his phone.
Get alerts on when your boyfriend has gotten out of a certain geographic zone. Geofencing alerts can be sent to your device to let you know when someone is getting out of a certain boundary. Review the keylogger for details on what your boyfriend is entering into his phone. You can see the conversation as it happens in a threaded view.
Top 3 Boyfriend Tracker Apps 12222
This gives you the complete context of the messages and avoids any misunderstanding. Dig out Contact Details If you feel the conversation is fishy and you need to dig a little about the sender or receiver, check out the details of the contact. See the contact name, profile photo, social media handles, number and any other details which are saved in the phone.
The best spy software like mSpy, Highster Mobile, and many others are paid for apps but also the most reliable and reputable.
how to Spy someone without touching the victim phone or installing spying app on phone
There is a way that you can tap or monitor her device but understand that you will need to personally download the software to her device. This application is free to download but will cost you money after the trial period is up for the application. Yes, I have used the Life application before when my girlfriend was pregnant so that if anything happened I would be able to reach her if anything bad happened to her at this time.
When using Life understand that their history will remain on the app regardless of what happens to your device. Also, in this situation understand that your device will not display your history correctly being that your device was disconnected meaning that your locations were not being tracked by the application.
The other person's device was still tracking or updating their location so it will still be in their history unless they disabled the app or deleted their history. More questions and answers on this topic can be found here: I believe I have a cheater on my hands. I would like to be able to see his texts, pics, location, etc. Also, if he checks for spyware, I do not want him to be able to see it.
Keyloggers and Spying Apps
I know the 4 digit code and can access his phone when he is Was this helpful? Yes No I need help The above questions are from the following wiki More questions and answers Location tracker app unnoticeable? The application known as SMS Tracker is an application that can be downloaded to the device and remain untraceable or noticeable on their device. The application will need to be downloaded onto the device.
best spy software for s7.
Best Spy Apps for Android & iPhone.
Apps Making Cheating Easy;
Why should you spy on your boyfriend's phone without Touching it!
Top 6 Apps to Spy on Boyfriend/Girlfriend's Phone (iPhone & Android)!
iphone 5 spyware.
There will be no way that you can download the application to the device without having physical possession of the device. Other options are to get him to use Find My Friends which is in Google Play or get a reputable spy app that you need to purchase as mentioned in answers above and the article in this page. To keep track of your boyfriend's phone, then you should first try to ask him if he can let you borrow his phone. Yes No I need help Remember: these applications may be illegal in your area, so call your local law enforcement before you try to install one.
You should also note that these applications may or may not work, as some users report both outcomes. Your boyfriend may figure out what you are up to with this method. So you can try to trust him instead of spying on him. On the other, still, it's your choice.
Two Ways to Track My Boyfriend's Phone without Him Knowing
Fortunately, for me, my husband is NOT cheating but he did lose his phone it seems the only way I could get any answers on how to locate his phone is to search "my husband is cheating", can you please help? The app will show you an address so if he lost it at home you will still need to toss the couch cushions.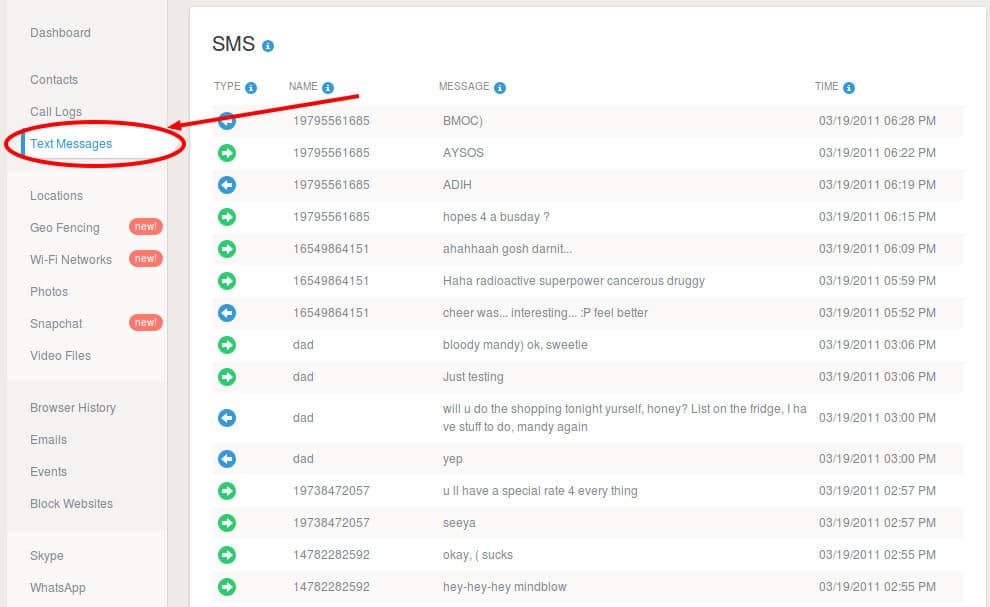 If his phone battery is dead or the phone is turned off there is nothing you can do to locate the app either. If you had his Google account you would have been able to download a free app like Find My Friends to his device remotely so see if he can try to think about what his Gmail account was for his device.
Part 1: The Different Types of Men More Likely To Cheat On You.
Is there an app to where i can receive my boyfriends text messages on my phone!
cell phone surveillance program.
spy app facebook;
is.yhere a spy app for samsung note 7.
spy sms text messages apk.
Can You Spy on a Cell Phone Without Having Access to the Phone.
And is the app undetectable on the phone? I believe my fiance who wants to get married and have kids soon is maybe cheating on me. Can I see anything he sends even if he erased it? Yes, apps like mSpy are untraceable and show you messages and calls even if he erases them on his phone. If you have problems with any of the steps in this article, please ask a question for more help, or post in the comments section below.
Categories : Suspicions.